Hello, I am Dennis Murray and welcome to Head2Heart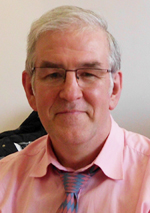 I am a qualified and experienced Counsellor, Supervisor and mental health professional, a registered member of the British Association of Counselling and Psychotherapy (BACP) and a member of the British Psychological Society (BPS).
In my private practice, I work from a safe and secure, comfortable, confidential setting in East Grinstead, West Sussex, where I provide 1-2-1, face-to-face, short or long term therapeutic counselling and supervision for adults.
COVID-19 Update
Please note, that during the COVID-19 pandemic I am working online or by telephone with more flexibility for availability and session times. Once it is save to do so I will resume face to face sessions.
Counselling for the first time
Coming to see a counsellor for the first time can be daunting and a big step in your life.  Yet, in doing so, it can be the start of the change, understanding and self-insight you may have been seeking.  Counselling and therapy has benefitted men and women from all walks, cultures and positions in life. See the about counselling page for more details.
Counselling needs
For many of us, there are times when life and relationships do not run smooth, when we feel in need of extra support and a time to talk and explore the things that are causing us to struggle.
These might include:
Feeling low 
Lacking in confidence 
Finding it difficult to deal with our emotions
The impact of immediate or past losses and bereavement
Fear or worry about the future
Past and present relationship issues
Family problems and tensions
Low mood, withdrawal or isolation
The impact of sexual, physical, mental or emotional abuse
Redundancy or stress in the work place or in your meaningful day time activity
Personal development
Feeling lost, confused, uncertain, alone
Anticipatory loss and or bereavement
Psychological or physical health issues
The impact of aging
Trauma
If you are finding it hard to deal with any of the above, now might be the right time to arrange to come and talk with me.  Meeting together for short or long term counselling, we can make sense of what is going on for you and how it is affecting you. Being led by you, we can find the tools within you, that you need to enable you to deal with whatever it is that is concerning you now and to sustain you in the future.
As a professional counsellor, my approach is to work alongside you, and help you through whatever brings you to counselling.
Counselling Fees
After an initial consultation lasting up to an hour (costing £25) if we agree to work together, on-going sessions generally last for 50 minutes (costing £40). Some concessionary rates are available.
Contact Me
If you would like to arrange an initial consultation, or call to discuss anything further, please contact me on 07866 239885 (on voice mail when I am not available) or email me at info@head2heart.co.uk. Alternatively, you can send me a message through the contact form on the contact page.